ASEAN Industry Landscape – Snack Industry –
Xin vui lòng tải bản tiếng Việt tại đây
ASEAN Industry Landscape
– Snack Industry –
ASEAN is an attractive market for snack[1] producers due to its young and growing population base, strong economic prospects and under-development potentials. Within the ten ASEAN countries, Malaysia, Thailand, Indonesia, Philippines and Vietnam (hereunder referred to as "TIPMV") are the most populous, accounting for more than 85% of the population of the region. Together, these five countries represent a 3.5B USD snack market growing at 11% a year in 2013.

Within TIPMV, there are some noticeable differences. In Figure 1 above, Indonesia, Philippines and Thailand are the largest markets given their large population. Malaysia shows signs of a maturing market in terms of both growth and per-capita consumption. Finally, Vietnam is a promising market given its high growth and low snack-consumption level.
Looking more carefully at drivers of the demand for snack, there appears to be a strong correlation between modern trade penetration, urbanization and consumption (Figure 2). In particular, the comparison between Thailand and Malaysia indicates that modern trade penetration may have a stronger effect than urbanization on per-capital consumption levels.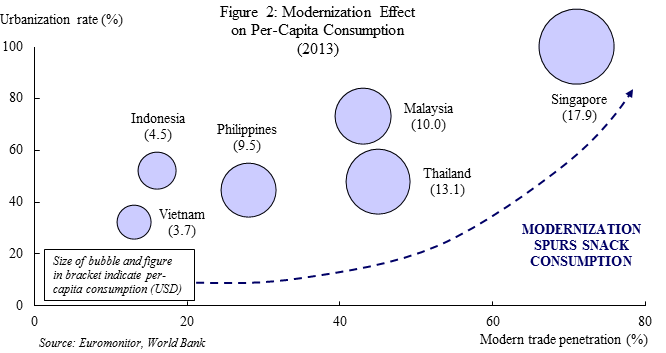 Furthermore, there exists different degrees of market concentration within TIPMV countries. The Philippines are the most concentrated, where the top 6 players (all domestic) control 72% of the market. Vietnam is at the opposite end, where this figure is only 42%. In most countries except the Philippines, foreign, non-ASEAN companies such as PepsiCo and Kellogg control a sizeable share of the market.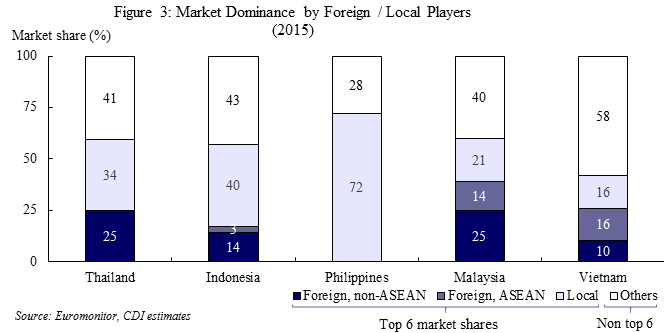 In Figure 4, we compare the financial performance of snack producers in terms of revenue, revenue growth and ROE. In particular, we highlight five local "champions", businesses founded /owned by TIPMV entrepreneurs that grew over time and now command considerable share within their respective markets.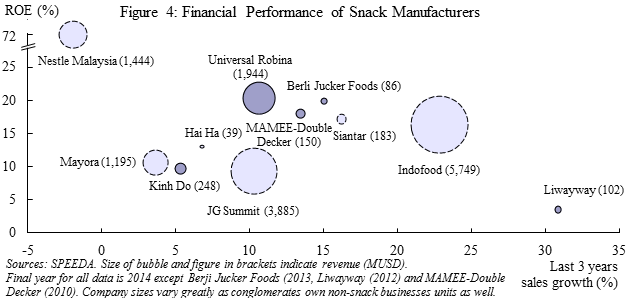 Among the players for whom we have data, smaller companies earn revenues between 40 and 250M USD, while larger conglomerates such as Indofood, with business lines extending beyond the snack industry, can earn above 5B USD annually. Most of the players earn an ROE of between 15-20% with growths between 5-15%, except Indofood and Liwayway, who are growing much faster than their peers.
Figure 5: ROE Decomposition for Snack Manufacturers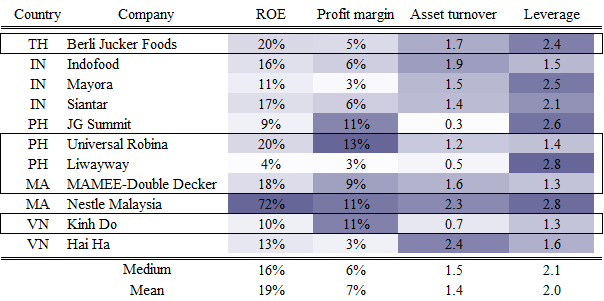 Source: SPEEDA
Comparing these companies' ROE and their Dupont components in Figure 5 above, we see a segregation in quality of returns. Universal Robina, MAMEE-Double Decker and Berli Jucker Foods are able to achieve ROEs of around 20%, but for different reasons. While Universal Robina is very profitable, MAMEE-Double Decker is highly asset-efficient, and Berli Jucker Foods is also asset-efficient, but their high use of leverage is the main reason for their artificially inflated ROE. At the other end of the spectrum, Kinh Do's figures are lackluster due to low asset turnover, while Liwayway fares poorly on both profitability and asset turnover. In fact, without high leverage (largest among the highlighted 5 players), Liwayway's ROE would be in the magnitude of 2%.
In the last part of this report, we include a brief profile of six local snack champions (the five highlighted above plus Garuda Food, for whom financial data is not available). These companies are able to gain a stronghold in the snack market for three main reasons. Firstly, they started their business early; some entered the snack business as early as the 70s, when not many MNCs regarded the ASEAN region as an important market. Secondly, the owners had very keen business senses. Five of the six companies profiled were founded or run by self-made Chinese-origin entrepreneurs. These individuals were able to mimic successful global products while introducing local variants or new products more suitable to the local consumers. Running their own business also means that the managers are deeply involved in day-to-day operations and have a firm grip on costs. Finally, basing off of the success of their core businesses, these companies have expanded their product portfolio to cover adjacent food and beverage categories, and have expanded to other ASEAN countries and leveraged on the proximity of the markets and production sites to gather superior market insights and realize better operational performance than that of their international counterparts.
 
Berli Jucker Foods (TH)
Garuda Food (IN)
Establishment
1982 (company), 1990 (snack business)
1987 (company), 1997 (snack business)
Founder / Owner
Charoen Sirivadhanabhakdi
Darmo Putro
Products
Potato chips, rice crackers and extruded snacks
Snacks, biscuits, confectionery, functional drinks and dairy products
Brands
Tasto Partry, Campus, Dozo, Bitee
Gery, Pilus, Clevo
Snack market share

(2015 estimates)

10% TH ($95M, 2015)
23% IN ($280M, 2015)
Overall financials
Revenue: $86M, profits: $4.2M (2015)
N/A
Overseas
Subsidiary in MA, export to neighboring countries (CA, MY, LA)
JV in India, 25 exports destinations
 
Universal Robina (PH)
Liwayway (PH)
Establishment
1954 (company), 1966 (snack business)
1946 (company), 1970 (snack business)
Founder / Owner
John Gokongwei
Carlos Chan
Products
snacks, chocolates, candies, biscuits, beverages, noodles, pasta, etc.
Potato chips, extruded snacks, biscuits, popcorn, peanuts, cereals, beverages etc.
Brands
Jack 'n Jill, C2, Great Taste, Griffin's
Oishi
Snack market share

(2015 estimates)

34% ($360M) in PH, 6% ($14M) in MA
13% ($143M) in PH & 12% ($46M) in VN
Overall financials
Revenue: $1.9B, profits: $245M (2014)
Revenue: $102M, profits: $2.6M (2012)
Overseas
Factories in CH, TH, IN, MA, VN, MY & NZ
Factories in CH, VN, MY, TH & IN
 
MAMEE-Double Decker (MA)
Kinh Do (VN)
Establishment
1971 (company & snack)
1993 (company), sold 80% of snack business to Mondelez in 2014
Founder / Owner
The Pang family
Tran Kim Thanh
Products
Potato chip, noodle & corn snack, instant noodles, and functional drinks
Snack, biscuits, crackers, mooncake, bread, ice-cream and milk products
Brands
Monster, Double Decker, Mister Potato, Perfecto
Sachi (distributor for Want Want China), AFC, Cosy, Korente, Solite, Slide
Snack market share

(2015 estimates)

9% ($20M) in MA & 3% ($36M) IN
5% ($20M)
Overall financials
Revenue: 150M, profits: 13.2M (2010)*
Revenue: $248M, profits: 26.8M (2014)
Overseas
Factories in MA, IN & MY

Over 100 export destinations

35 export destinations, no international subsidiaries


Sources: Euromonitor, company websites and secondary resources. All monetary figures are in USD. Market share is not available when player is outside top 6. Country abbreviations are as follows: Cambodia (CA), China (CH), Indonesia (IN), Malaysia (MA), Myanmar (MY), New Zealand (NZ), Philippines (PH), Thailand (TH), and Vietnam (VN).
*The company was delisted from the Bursa Malaysia following share buyback by the owner family in 2012.


CDI Asia Business Unit, Consultant, Pham Le Duc
CDI Asia Business Unit, Director, Ogawa Tatsuhiro
January 2016
 

[1] Including chips, extruded snacks, fruit snacks, popcorn, pretzels, tortilla and other sweet and savory snacks (according to Euromonitor definition)

Download attachments